Notes/Pages relating to website administration
I have seperated the pure design topics and tasks related to the administration of a website. These are Administration related pages (work in progress)
The key areas of Web Adminstration
Top
Hosting Control Panels:
The Parish Council and tempusfugit.me.uk are: HostingUK Plesk Control Panel The individual web Control Panels can be accessed from the myhostcp.com page. To do this the service needs to be selected and then the Plesk Control Panel then has a login.
and the Village Hall website (bwvh.uk) using the TSOHost Control Panel The TSOHost web Control Panel (Gridhost.com)
and belchampwaltervillagehall.co.uk is administered using the Wordpress.com interface.
Email
Hosted email configuration is also maintained using the Control Panels. Customised emails have been configured for all hostings.
Email is also administered for the Canadian addresses through CADNS
I have made some notes regarding the configuration of email, especially the CADNS issue that comes up from time to time.
Village Hall and Wordpress
At the present time this is administered though the Wordpress interface. Additional pages are maintained, using my own code, FileZilla and the Gridhost Control Panel.
The HostingUK Client Area
Both of my services are administered from here. For more information see my page on HostingUK
The TSO Client Area
The Charity hosting is administered from here
control.gridhost.co.uk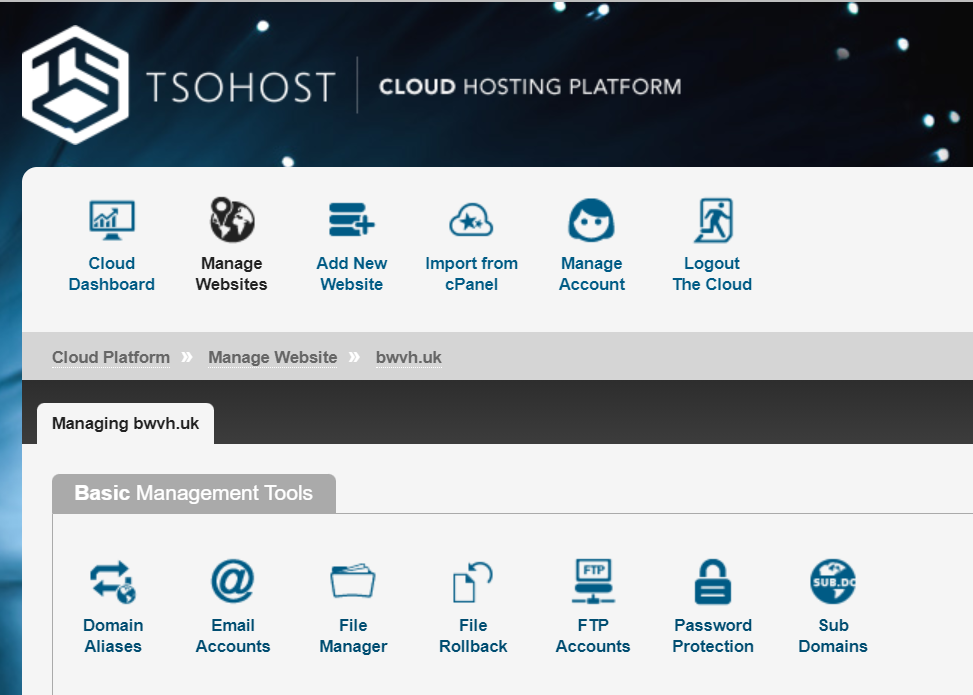 The Wordpress Interface
Here I only have limited control over the content of the website. I cannot FTP files to the server and have to use the Wordpress interface to design pages, menus and upload files.
The pages on the Wordpress site are designed and edited using the Jetpack editor