Listed Buildings in CO10 7AT
This page is part of an on-going research project on the history of Belchamp Walter and the manor of Belchamp Walter. If you have found it making a web search looking for geneological or other information on the village then please bookmark this page and return often as I am likely to make regular updates. If you delve deeper into this website you will find many other pages similar to this one.
Here are a few of the listed buildings with their descriptions as taken from the Historic England website. These buildings are located in and around the village of Belchamp Walter, Essex. The listing text is in green, any additional notes are added in normal text. I have started with what I see as the oldest surviving structure. I have not attempted to order the rest by age. Initially I based my search on the postcode CO10 7AT
Links to the Historic England website are contained in the section headings.
Unfortunately the sub referenences on the British History Online website are not "live". So the use for research is limited. BHO do ask that their site be "Cited" if you quote information found on their pages. The references, where inclued, are in the form * (12) - in the case of The Munt Cottage.
Munt Cottage
Munt Cottage on tempusfugit.me.uk
Listed 22 August 1986
The description on the Historic England website:
1/11 The Munt Cottage

House. C16 and earlier. Timber framed and plastered with thatched, gabled roofs. Of one storey and attics, but with 2 storey crosswing at south west end.
The main range has 2 gabled dormers. The crosswing was formerly jettied and has multiple bracing exposed on the front, suggesting a C14 date.
A picturesque red brick stack is positioned at tile junction of the main and crosswing roofs.
The windows are C20 small pane casements. Internally some framing is exposed and a large inglenook fireplace.
According BHO: in "An Inventory of the Historical Monuments in Essex, Volume 1, North West (London, 1916), pp. 18-21". British History Online
* (12). Cottage, now two tenements, on the E. side of the road, 120 yards S. of the church, with a modern addition at the S.W. end. The upper storey is gabled, and originally projected at the S.W. end of the N.W. front; it has now been under-built.
The description of the dwellings ss "tenements", here and other properties South and East of the church indicates that there probably was not wealth and the occupants were of simple means and possibly labourers. Most of the Tenements have been "reclaimed" from their state in 1916, the date of the Inventory of Historical Moements in Essex, and are now single family homes. Apart from the Hall and the Millers house
Mill Cottage - actually Mill House
Listed 22 August 1986
The description on the Historic England website:
1/10 Mill Cottage

House, former miller's house. Mid C16. Timber framed and plastered with a slate hipped roof.
Of 2 storeys but with later painted brick lean-to's on the north and east faces.
A 4 bay house of the mid C16 with parlour at the southern end. Large rectangular off-centre ridge line stack and tall thin stack through the northern lean-to roof.
Windows are a mixture of horizontal sliding sashes with small panes and C19 small pane casements. Internal arched wall bracing to each bay and stop chamfered floor joists.
Early C19 corner cupboard in former hall which seems to have had an open central well rather than being fully open to the roof. RCHM 13
As the Historic England website says Mill House was the millers house for the nearby Belchamp Mill. At the time of the listing the mill was in ruin and not used. It is now known as Lovejoy's Mill and has been converted to a holiday let. The mill pond is next to the Mill and Mill House. The water courses feeding the Mill have now laregly dried up but it is my theory that the water for the Mill was a combination of a Water Table Aquifer and from Bechamp Brook.
BHO: * (13). House, now two tenements, near Belchamp Mill, 220 yards S. of the church. There are modern additions on the N.E. and N.W. sides; the roof is covered with slate, and is hipped at the ends.
Hall Cottage
The description on the Historic England website:
1/12 BELCHAMP WALTER HALL ROAD TL 84 SW (east side) 1/12 Hall Cottage GV II Cottage.

Late C18/early C19. Timber framed and plastered.
2 storey block with gabled peg tile roof and one storey and attics lean-to block of flint with red brick quoins and dressings and slate roof.
This range has 3 gabled dormers with bargeboards and segmental brick arched casements with small panes. Large stack through the roof slope.
The rear, 2 storey range has large gable end stacks and triangular headed windows in the rear elevation.
No listing on BHO
I have a seperate page on Belchamp Hall - see seperate page for Historic England listing
No listing for the Hall on British History online but under monuments:
* (4). Stone and Marble Fragments, built into the gate-piers of Belchamp Hall, 100 yards N.N.W. of the church.
The fragments include portions of 12th and 15th-century shafts, some with moulded and carved capitals, carved diaper work, and two marble shields of early 16th century date, both — a cheveron between three eagles, a chief (defaced) impaling a cheveron between three crosses paty, for Philip Raymond of Hunsdon and Agnes (Sterne) his wife.
Again, Hunsdon, Hertfordshire is mentioned.
Munt House
The description on English History website:
1/15 Munt House (formerly listed as Munt Farmhouse) 7.8.52 GV II

House, former farmhouse. Early C18.
Timber framed and plastered with timber frame exposed on upper floor of front. Of 2 storeys and attics with peg tile roof gabled to north and hipped to south, returning to rear wing. One gabled dormer in front roof slope. North gable end stack, ridge line stack and small stack over rear wing.
Front has C19 mullioned and transomed casements with small panes and central hipped peg tile open porch with turned Doric columns and miniature triglyphed frieze.
The early C19 door surround has reeded pilasters and frieze and dies in the capitals and 6 panel door.
Painted C20 timber plaque on wall with date 1777.
Internally there are 2 inglenook stacks, some C17 and C18 doors and heavy softwood spine beams.
Complete floors of large and small brick paviors. Late example of large timber framed house.
Ripplngales
The description on English History website:
1/28 Rippingales (formerly 7.8.52 listed as "Rippingales - II Farmhouse")

House. C17 and earlier. Timber framed and plastered with gabled peg tile roofs. Of 2 storeys with off-centre concertina stack and C20 open sided gabled porch below.
Front has 2 jettied display gables with carved tie beams on shaped and carved brackets. Windows are C19 casements.Mbr> Front and end gables are of black weatherboarding.
A typical baffle entry house, but a lower top plate suggests an earlier structure, substantially rebuilt in c.1630.
The spine beams are stop chamfered and those to the parlour are supported on shaped brackets. This room also has an early C19 corner cupboard.
Baffle Entry - discoveringcoggeshall.co.uk
The introduction of the chimney stack led to a new plan form, the baffle- or lobby-entry plan, in which the front door leads into a lobby formed by the side of the stack, and there is usually a staircase on the other side of the stack. Initially the chimney was placed off-centre in the house, but later it came to occupy a central position, making it possible for the façade to be designed symmetrically around a central front door. Lobby-entry houses were built from early in the 17th century and became very widespread in England, and indeed migrated to North America with the first settlers. "
Springates
The description on English History website:
1/19 Springgates (formerly 7.8.52 listed as "Springgate - II Farmhouse.")

House, former farmhouse. Mid C16.

Timber framed, plastered with peg tile roof, hipped on west and hipped with gablet on the east end. Long wall jetty house with crosswing at west, high end articulated at rear. 2 storey and of 'U' plan form with C20 hipped rear extension at east end.

Front has C20 lean-to peg tile roofed porch and C19 casements with square panes and small ventilator lights, all with C20 shutters. Off-centre ridge line stack with square base and rebuilt upper parts slightly tapered. 2 original door heads with carved spandrels one with shields and moulded joists and bridging joists with leaf stops. RCHM 14.
The description on English History website:
Bake House - Post office
1/1 The Old Bake house GV II

House, part former bakery and shop. Early C18.

Timber framed and plastered with C20 pargetting and peg tile roof, this has a gable on north west end and is half hipped with a large gablet on south east end. Of 2 storeys with off-centre ridge line stack and smaller stack behind ridge near south east end.

Front has 4 early C19 double hung sash windows on the first floor each with a single vertical glazing bar and moulded architraves. The ground floor has 4 similar but deeper windows and an off-centre C20 open porch with flat roof.

Behind this is an early C19 door surround with continuous moulded architrave and superimposed frieze with triglyphs of 2 differing patterns. Either side are half columns of approximate Doric character, remnants of an earlier porch. To the rear is a single storey wing with bakehouse oven.
The description on English History website:
1/5 Mill Cottage- II
Cottage. C18. Timber framed and plastered with gabled thatched roof. Of 2 storeys with catslide lean-to on rear with painted weatherboarding on its east wall.

Front has 2 semi-circular arch headed casement windows, one with leaded lights and a simple boarded door.

The east gable has another similar leaded light window with opening iron casement light. Off-centre small ridge line stack. Internally there is an early C19 fire surround.
Village Hall/School House
The description on English History website:
Village hall, former primary school, dated 1872 on stone plaque on north end.

Of red brick with stone window dressings and black brick diapering string bands and relieving arches.

Roofs are of Welsh slate with steep pitch and ornamental tile cresting. The north and south ends have terracotta cornices. Those facing east are gabled with small hips at the head and large bargeboards with splayed ends and quatrefoil piercings.

Of 'T' plan shape, but with single storey gabled porches on east, west and north ends.

The east entrance side has 2 dormer-like structures over the major windows. These have a varied number of tall lancet openings pierced through stonework. Internally the main hall has an exposed arch braced rafter roof.
St Mary's Hall
The description on Historic England website:
Farmhouse. C15 and C16. Timber framed and plastered with peg tile roofs. The main block is of 2 storeys and of 'H' plan form with unjettied crosswings at each end. The rear has been infilled between the crosswing with a C20 2 storey flat roofed extension.

The fronts of the crosswings are gables and the rear has half hips. To the south east of this main block is a 2 storey structure, connected at the corner and with a peg tile roof, gabled to the east and hipped to the west.

The main front has bargeboards to the wings, C20 pargetting including gable top crests and leaded light C19 casements.

The off-centre door has an early C19 pedimented doorcase with lobed continuous architrave. The southern crosswing has a C16 stack against its exposed flank with 3 original octagonal stacks. The north wing has a later flank stack.

The main block now appears to be mainly of the C16 with typical corner chamfers on the north crosswing, bridging joists.

The rear block is a 2 storey structure of 2 bays with a simple but massive crown post roof.

The north crosswing has a good early C19 corner cupboard, but here set into the flank wall. Moated site. RCHM 5.
Hopkins Farm
The description on Historic England website:
Farmhouse. C15 or earlier and c.1600.

Timber framed and plastered with peg tile roof which is half-hipped with gables at west end and has small gabled terminations at the front and rear of the east end.

Of one storey with attics but with 2 low floors at east end. The front has an off-centre, open gabled and peg tile roofed C20 porch and one gabled dormer.

The rear roof slope has 2 similar dormers. Off-centre on the ridge line is a stack with 4 octagonal shafts.

Windows are C20 casements with small panes. A medium sized farmer open hall house of 'in line' type, with inserted floor with stop chamfered joists and late C16 large stack, with semi-circular inglenook to hall. This has a moulded timber mantel bead.

The central posts and tiebeams survive with heavy, flat chamfered arch braces and simple soot-blackened crown post roof with thin straight bracing. c.1600 the low end was rebuilt as 2 storeys with the curious, 'reversed assembly' gabled terminations and moulded corbels. One truss of this phase has a raised collar with arch braces. The west or high end bay was also widened at this time.

In this west room is an elaborate late C18 corner cupboard with serpentine shelves and raised and fielded panel doors and painted putt in the spandrels. RCHM 6.
Fisher's Farm
1/29 Fishers Farmhouse 21.6 .62 including single storey range to rear.

House, former farmhouse. Late C16 and late C17. Timber framed and plastered with peg tile roofs.
Of 2 storeys and of nearly square plan form, composed of 2 parallel ranges but with the roof returned across the northern end with hips at the north west and north east corners.
The west range has 2 gabled dormers and a ridge line stack.
The east range has a large 'L' plan form ridge line stack.
Windows are C20 casements with a single horizontal glazing bar to each light.
The north front has a central rustic gabled porch.
The east range is part of a large late C16 house with close studding and remains of ovolo mullioned windows.
The rear half behind the large inglenook stack has been rebuilt.
The west range is a late C17 house now linked to the earlier range by a 2 storey corridor.
This has a central inglenook stack and much reused timber.
On the stairs is a C17 panelled door and the attic stairs have an upper balustrade of simple C17 turned balusters.
To the rear and formerly linked is a single storey pantiled brewhouse and outbuilding with rendered clay lump walls and old boiler and oven.
Clarks's Farm
1/32 Clarks Farmhouse 7.8.52 - II

Farmhouse. C15 or earlier and late C16. Timber framed and plastered with gabled peg tile roofs.
Of one storey and attics with some parts 2 storey and of extremely complex plan form.
Basically an 'in line' hall house form with low eaves line but with 2 gabled flush crosswings superimposed on the front.
These have original bargeboards and a carved interlocking decoration.
One wing protrudes to the rear of the similar bargeboards.
A large stack with 4 truncated octagonal shafts stands on the ridge line, above the northern crosswing.
The front has an off-centre C20 lean-to porch, C19 mullion and transomed casements and a gabled dormer between the gabled wings.
At the south end is a 2 storey gabled peg tile roofed structure, possibly a garderobe tower.
A large C17, 2 storey extension extends to the north east and there are further rear lean-to's and extensions.
Internally there are traces of a late medieval hall house, including a steeply cambered hall tie beam.
The inserted C17 floor has stop chamfered joists.
Some late C18 features including a fire surround, some doors and an arch headed recess with serpentine shelves.
An internal staircase of spiral form has a curious moulded handrail of indeterminate date. RCHM 9.
Other monuments listed on BHO
St.Mary's Church
The major entry on the BHO website for Bechamp Walter is for the Church of St. Mary:
c (1). Parish Church of St. Mary the Virgin stands on the S.E. side of the parish. The walls are of flint rubble partly covered with plaster, the dressings are of stone; the roofs are tiled.
The Chancel was built in the first half of the 13th century. c. 1330 the Nave was rebuilt and a chantry-chapel or tomb-recess added on the N. side.
The West Tower was added about the middle of the 15th century, and in the second half of the same century the South Porch was built.
In the 16th century the projecting tomb-recess or chantry-chapel was removed.

The church was restored in the 19th century, when the E. wall and the chancel-arch were rebuilt, the E. wall now standing further E. than its predecessor.
This might explain the truncation of the wall painting depicting "The three living and three dead". Also there is a blocked door on the south wall that lloks like an entrance to a stairway to a Rood Screen and loft. This doorway is adjacent to the pulpit and there is no sign of a Rood Screen or loft.
The Pulpit is contemporary with the renovations
The 14th-century arched recess in the nave is particularly noteworthy.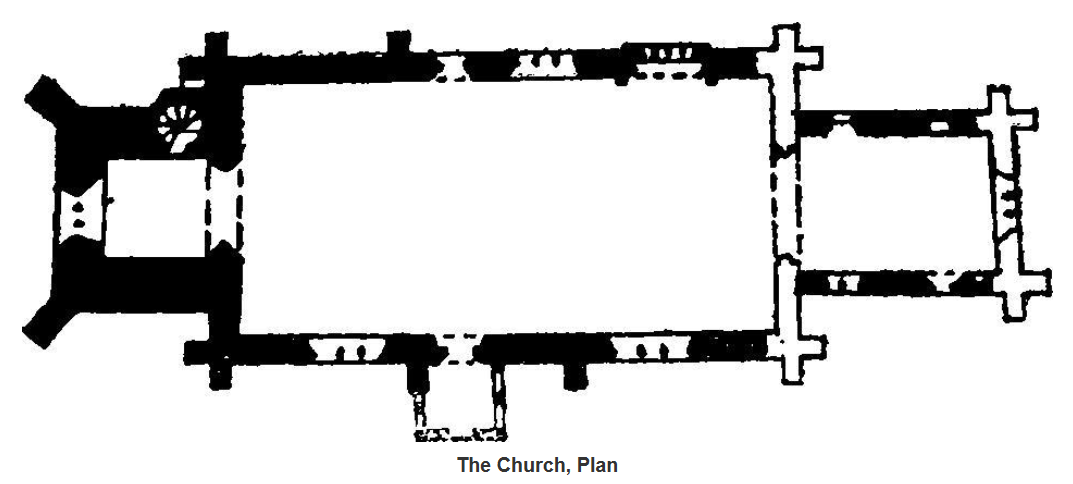 Architectural Description—The Chancel (23¼ ft. by 16 ft.) has a modern E. window. In the N. wall are two windows; the eastern is of one round-headed light, only partly old and of uncertain date; the western window is a 13th-century lancet, the sill has been removed and the opening cut down to the floor to form a modern doorway. In the S. wall are two windows, the eastern is a 13th-century lancet, and the western window is modern; below it are remains of the splays of a lancet window or a doorway. The chancel-arch is modern.
The Nave (63¾ ft. by 30½ ft.) has a moulded external string-course below the window sills. In the N. wall near the E. end is an archway (see Fittings) opening into the former tomb-recess or chantry-chapel, and now blocked with 16th-century brickwork, which has a moulded plinth of stone; foundations of the W. wall of the chapel remain outside, level with the ground. There are two windows in the N. wall; the eastern is of the 16th century, and is set in the blocking of the archway; it is of moulded and plastered brick, and of four plain lights under a square head; the western window is of c. 1330, and of three cinquefoiled lights with intersecting tracery under a two-centred head. Further W. is the 14th-century N. doorway, now blocked; the jambs and two-centred arch are of two moulded orders. In the S. wall are two windows of the same date and similar detail to the western window in the N. wall. Between them is the S. doorway, which is similar to the N. doorway, but is not blocked, and has a moulded label.
The West Tower (12¼ ft. square) is of the 15th century, and of three stages, with a moulded plinth and embattled parapet, both enriched with flint and stone checker-work; the plinths of the two western buttresses have each a quatrefoiled panel with a plain shield; the N.E. stair-turret is finished at the top with 16th-century brick and supports a modern cupola with an early 18th-century weather-vane of wrought iron.
The tower-arch is two-centred and of three chamfered orders, the two outer orders continuous, and the inner resting on semi-octagonal shafts with moulded capitals and bases; on each side of the arch, on the E. face of the wall, is a square cusped panel which has an embattled cornice, and encloses a shield with arms wrongly painted in the 17th or 18th century
(a) three water bougets quartering three bulls' heads razed sable;
(b) sable a cheveron argent between three eagles argent and a chief argent with three martlets sable therein, for Raymond, quartering or a cheveron sable between three crosses paty sable, for Sterne of Essendon.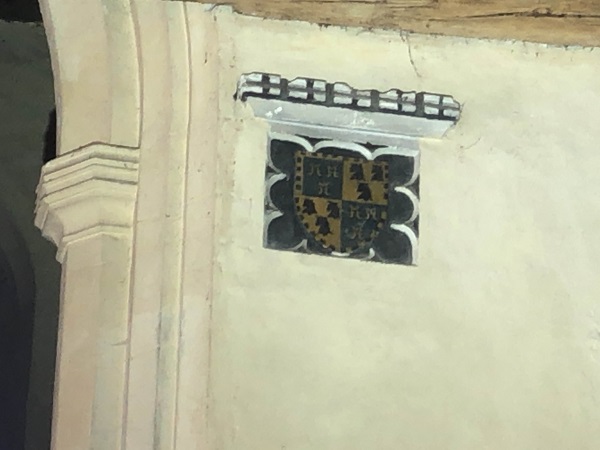 Three crosses paty - paty-formy-patonce cross
In the N. wall, opening into the stair-turret, is a doorway with chamfered jambs and four-centred arch.
The W. window has been partly restored; it has three cinquefoiled ogee lights with a transom and tracery in a four-centred head under a moulded label. The second stage has, in each of the N., S., and W. walls, a window of one trefoiled light; below the window in the W. wall are three square panels in a moulded frame; two of the panels are cusped and enclose blank shields.
The bell-chamber has, in each wall, a window of two cinquefoiled lights in a four-centred head with remains of a moulded label.
The South Porch is of the 15th century, and is timber-framed on a brick base. The outer entrance has double-hollow-chamfered posts with arched brackets supporting the lintel; the gable has a moulded beam at the base, and foiled barge-boards. The E. and W. walls are each of two bays, divided by a post with art attached semi-octagonal shaft from which springs the brace of the tie-beam; each bay has a window formerly divided into lights by diagonal mullions; only one of them is original, and many are missing.
The Roof of the chancel is of the trussed-rafter type, plastered on the soffit and having moulded wall-plates of the 15th century. The roof of the nave is of a similar type and also plastered. The ground stage of the tower has large flat ceiling-beams of the 15th century. The 15th-century roof of the porch has two cambered and hollow-chamfered tie-beams, with curved braces, one king-post with four-way struts, and one with a single strut and a central purlin; the wall-plates are moulded and embattled.
Fittings—Bells: eight and clock-bell; 5th by Thomas Gardiner, 1712; clock-bell, uninscribed. Bell-frame, old. Brasses and Indents.
Indents: In nave—(1) of figure probably of priest in cope, large canopy with small shields, 15th-century, much worn; (2) of two figures, one in armour, elaborate canopy, inscription plate and four shields, 15th-century.
Chest: In tower—of oak, painted, with three-sided lid, three locks and handle at each end, shaped feet, probably late 17th-century.
Doors: In N. doorway—(1) of studded battens with strap-hinges, probably 16th-century. In S. doorway—(2) similar to that in N. doorway, but partly restored. In doorway of turret-staircase—(3) with frame in two panels, planted on, 15th-century.
Font: (see Plate, p. xxix) circular tapering bowl with band of interlacing ornament, divided by small round and twisted shafts, early 12th-century, top cut down, base modern.
Glass: In nave—in S.W. window, quarries with flowerdesign, 14th century.
Monuments: In nave—in N. wall (see Plate, p. 20), (1) said to be to Sir John Boutetort, 1324 or 1325, and Maude (Fitz-Otes) his wife, arched recess probably forming canopy for former altar tomb and entrance to former chantry-chapel, moulded and two-centred arch, cinquefoiled, sub-cusped and carved with foliage and flowers, points of main cusps carved with grotesques, and on main spandrels four shields of arms alternately, (a) a saltire engrailed, for Boutetort, and (b) bendy with a quarter, for Fitz-Otes; crocketed and moulded label with carved finial, moulded responds carved with foliage; arch flanked by square panelled buttresses with panelled, gabled and crocketed pinnacles, on buttresses numerous small shields of arms including Boutetort, Fitz-Otes, Boutetort with a label of five points, Fitz-Otes impaling Boutetort, and quarterly a bend, for Beauchamp; at back of arch, moulded and carved springers of vaulted roof of former chapel, or canopy of tomb, springing from semi-circular vaulting shafts with moulded capitals. In churchyard—S. of nave, (2) to Anne, wife of Robert Ray, 1712, head and foot-stones.
Paintings: In nave—traces, on whole of N. and S. walls; on N. wall, two tiers of subjects enclosed in horizontal bands of ornament, early 15th-century, much defaced, also lower down, traces of texts in black-letter, palimpsest; on S. wall, traces, including large circular border, probably of a 'wheel of fortune,' ornamented with roundels. Recess: (see Monuments).
Miscellanea: In second stage of tower—candlebox and holder of wood, top and back covered with metal, back dated 1673.