John Gernon
The connection of the Gernon family with Belchamp Walter stems from the marriage of a daughter to a resident of the manor in the 14th century.
The research on John Gernon the Knight is a little sketchy.
Sir John de Boutetourt's son, who was living at Belchamp Walter manor in 1340's. He married Joan the daugther of John Gernon.
It is believed that John Botetourt and Joan (Gernon) were living in the hall in the 1340's
Apparently, John Gernon was a rich knight. His daughters Elizabeth and Joan
I don't have a record of the geneology of the "young" Sir John Botetourt and I presume that they had no male hier so the estate was passed on to the Synbourne family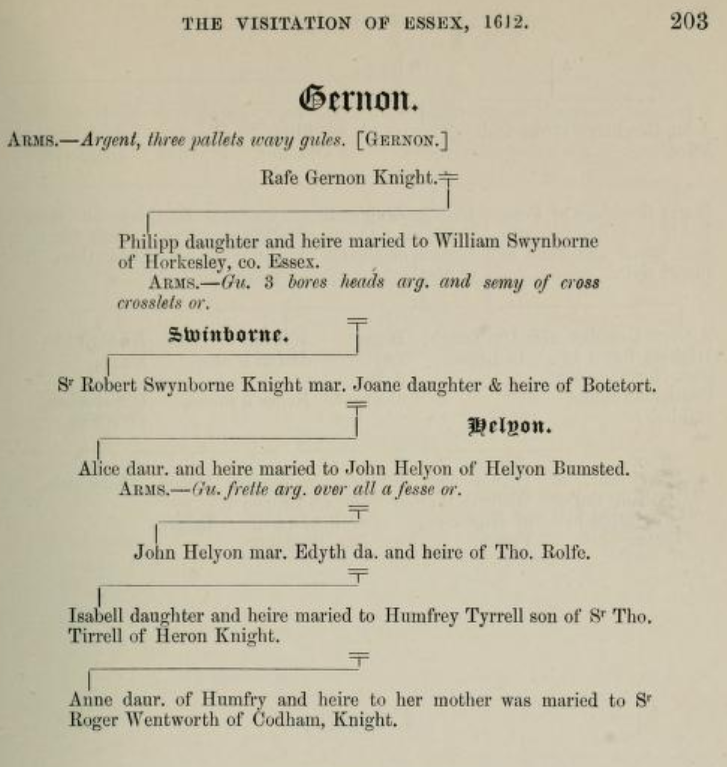 Thomas Wright said:
Sir John Botetourt.....
..... on his death, in 1339, to left his only son, Sir John, his successor.
The Geni.com does not mention who Sir John's son was and who the young Sir John, married.
However, Thomas Wright in his Hstory and Topography of Essex, goes on to say:
He married Joan, daughter and co-heiress of John Gernon, of the family of Stansted Montfitchet, whose only daughter was named after her mother; she was a very rich heiress, conveying the large possessions of the Botetourts and Gernons to her husband, Sir Robert Swynborne, of Little Horksley.
Notes from geni.com
Son of Sir John Gernon, Sr. and Alice de Gernon
Husband of Isabel Gernon
Father of Elizabeth Rycote (Gernon) and Joan Gernon
	
Daughter of Sir John Gernon, Kt. and Isabel Gernon
Sister of Elizabeth Rycote (Gernon)

Joan, daughter and heiress of John Gernon, married John Botetourt and had by him a daughter, 
Joan, who married Robert Swynburne, Knight.[2][1]

Parents: John Gernon,[2] Knight, of East Thorpe, Essex and Alice ____[1]
Husband: John Botetourt of Belchamp Otton, Belchamp Walter, Gosfield, Gestingthorpe, and Ovington, Essex, son and heir of 
John Botetourt, K.B.[1] (d 1339) of Gestingthorp and Belchamp Otto, Essex by his wife Margaret.[2] John Botetourt was born about 
1330 (aged 9 in 1339).[1]

Daughter: Joan Botetourt, daughter and heiress, was born about 1353 (23 in 1376). 
She married Robert Swynborne, Knight, as his second wife before 13 November 1371 (date of presentment). 
He was born about 1327.[1]
Died: Joan (Gernon) Botetourt died before 1384. Her husband died before 1376.[1]