St Mary the Virgin, Belchamp Walter - the Churchyard
This page is part of an on-going research project on the history of Belchamp Walter and the manor of Belchamp Walter. If you have found it making a web search looking for geneological information then please bookmark this page and return often as I am likely to make regular updates. If you delve deeper into this website you will find many other pages similar to this one.
Below is an aerial shot of the Church and churchyard taken from a Google Satellite image. It is orientated North at the top.
The listed tomb
This is in churchyard South of the transistion between the Nave and the Chancel. It is seen on the aerial image with two other tombs not listed.
1/14 Tomb chest, 2 metres from south east nave buttress on Parish Church Tomb chest. Late C18. Of limestone and rectangular with bulbous quarter balusters at each corner.
On each long side are carved panels, that to the north of 2 cupids and that to the south with 2 cupids heads and floriated ribbons.
The top of the tomb chest is enscribed but illegible due to lychen growth. The other two tomb chests are in a similar state in this location and it is guessed that they are of similar age and stature with respect to their occupants. The date of the late 1700s is contemporary with the early Raymond period.
There is an additional tomb chest for Frederick Perry d. 1885 at the North of the church. This would have been 100 years later.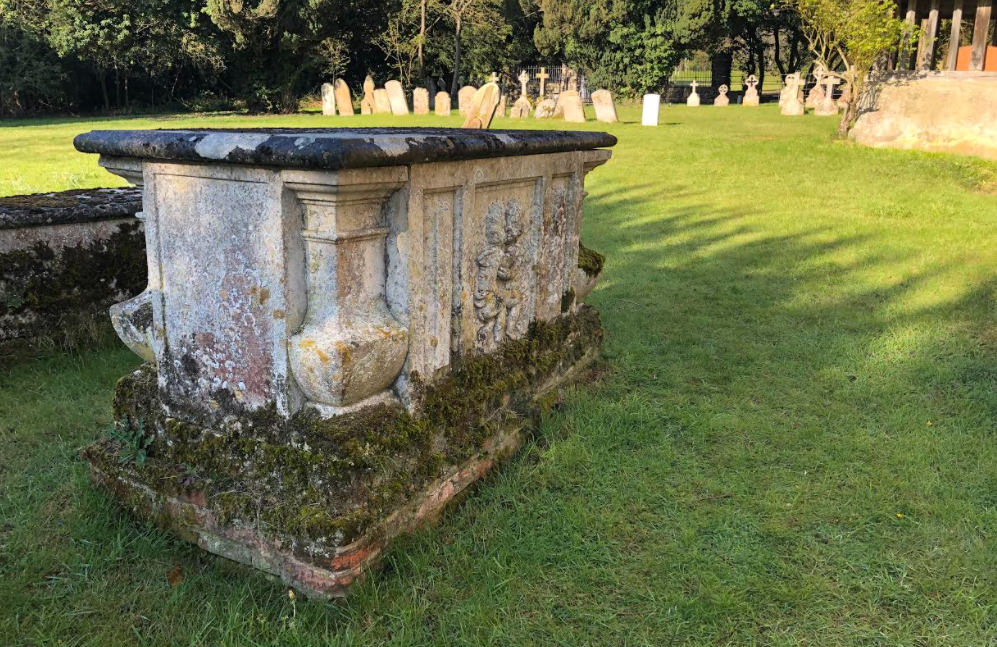 The British History On-Line entry (1916) mentions a monument:
In churchyard—S. of nave, (2) to Anne, wife of Robert Ray, 1712, head and foot-stones.
This is not the listed monument. The mention of Robert Ray yealds no cross-reference when searching the Essex Archives.
Raymond corner
This is South of the tower closest to the road. Here the tombstones of the Raymond family that were not interred in the family vault.
The last Raymond to have a stone here is Samuel Philip St. Clere Raymond. The older memorials are further away from the tower however, the stone closest to the tower is not a Raymond.
It is the Reverend Henry Raymond Smythies, died 1888, possibly a relation of Margaret Charlotte Montague Smythies, + 1939, d. of Francis Smythies, of Colchester, Essex. Margaret was the wife of Samuel John St.Clere Raymond.
Samuel Phlip St. Clere Raymond and (Caroline) Mabel Louisa Astell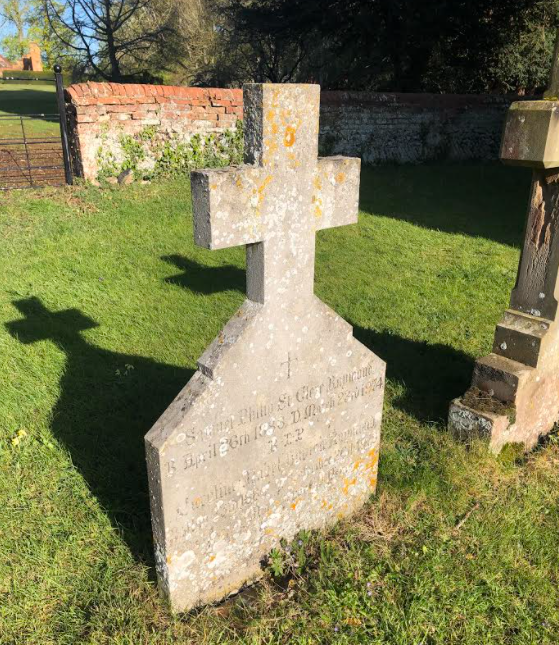 George Washington Brownlow
George Washington Brownlow, the local painter and the artist who painted the pulpit and alter paintings, is buried in the churchyard not far from the Raymonds.
Links
External Sources
St Mary the Virgin, Belchamp Walter - the Churchyard