Edward III to the Post Civil War years
This page was another family tree that I found doing my research - The tree comes from "The Plantagenet Roll of the Blood Royal: The Mortimer-Percy Volume". It confirms the family tree on the Freer website.
The connection is the marriage between Francis Harris and Oliver R_____. They married 16?? (need to look this up) John R______ I purchased the old Manor in 1611 - The Queen Anne was built in 1720/1721 by John R______ III.
This page was expanded as a consequence of reading Wolf Hall by Hillary Mantell, Henry Percy, Earl of Northumberland, was mentioned in connection with Thomas Boleyn, 1st Earl of Wiltshire. Also looking at the Plantagenet Roll family tree I noticed reference to The Bigot Aske Rebellion - 1537.
John R______ I died in 1635 and Oliver was his son.
Oliver R______ married Francis Harris in 1635 thus marrying into the Plantagenet Line.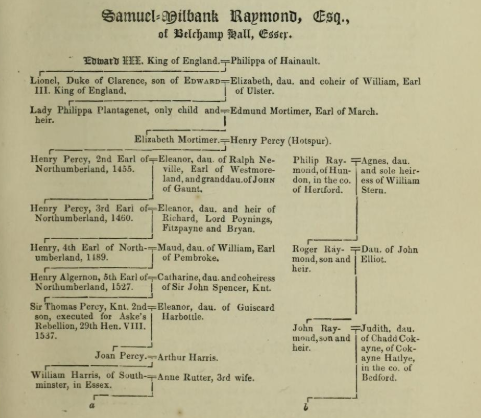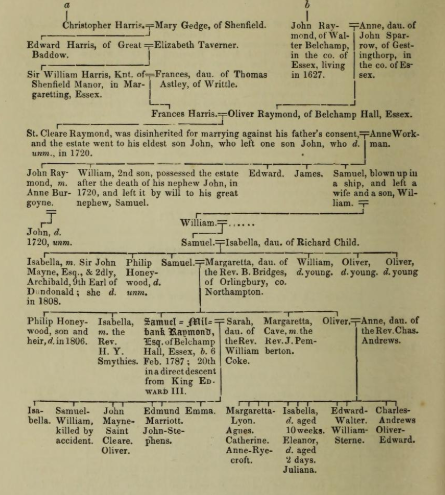 Philippa Plantagenet and Edmund Mortimer - m. 1368
Lady Philippa Plantagenet was the only child of Lionel, Duke of Clarence, son of Edward III (1338-1368) and Elizabeth de Burgh, 4th Countess of Ulster. (1332-1363)
She was married to Edmund Mortimer in 1368
Joan Percy and Arthur Harris
The mother and father of William Harris of Southminster, Essex.
Anne Rutter 3rd wife of William Harris - Christopher Harris married Mary Gedge of Shenfield
Edward Harris and Elizabeth Tavener of Great Baddow.
Sir William Harris of Shenfield and Frances Astley of Writtle, mother and father of Francis Harris who married Oliver R_______.
Catholic and Anti-Royalist
The connection between the R_____s and the Plantangenets - 1537 - The manor of Belchamp Walter "came to" Sir Roger Wentworth in 1539
" Thomas Percy was a participant in the 1537 Bigod's Rebellion in the aftermath of the Pilgrimage of Grace, a Roman Catholic uprising against King Henry VIII. "