The filming of Downton Abbey - "A new era" at Belchamp Walter
Update - August 2021
Back in October 2020 I was approached by Carnival Films who were interested in using Belchamp Walter Church and the grounds of Belchamp Hall to film the opening sequence for the upcoming Downton 2 movie.
Sparky (Mark) Ellis emailed me at the Village Hall website because Donal Woods the Emmy winning producer had seen my drone photographs of the Church and its relation to the grounds of a country house that was smaller in grandure to Highclere Castle. The location was perfect for their vision of the opening sequence.
While the owners of the Hall and the Church were sworn to secrecy, the webmaster, the initial contact was not. So far I have not made any announcements regarding the filming. The filming may not have happped unless I had followed up on this initial approach.
In fact, seeing how things played out I am not sure that I would have responded in the same way when approached. Not only were a large number of the villagers anoyed at the distruption and not being informed that the filming was going to take place, the house that I was living was being re-thatched and the filming slowed what had turned out to be a very drawn-out process. The thatch is still not finished and it is now August 2021. The filmng was early May 2021 and the thatcher not only spent a lot of time talking to the cast and crew he gave the impression that it was all arranged for his entertainment.
Background
Phyllis Logan - Mrs Hughes of Downton Abbey (Elsie Carson), was Lady Jane Felsham of Felsham Hall. Belchamp Hall was where it was filmed.
The concluding scene from the Downton Abbey movie (not the TV series) Mrs Hughes and Carson speculate on the future of the Crawley family. They conclude that they will be resident at The Abbey well into the future.
Filming location of the opening scene
A country house with a church within its grounds. The service at the church is a wedding?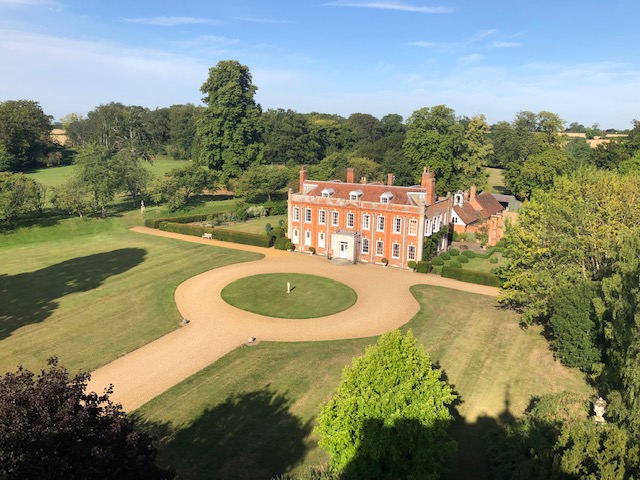 The release date of Downton Abbey 2 was supposed to be the Christmas holiday season (Christmas 2021) but it has now been delayed until the spring of 2022.
Julian Fellowes was the Creator, a screen writer and one of the producers of the first Downton Abbey film. His TV series, Gilded Age (produced for NBC television in the United States), was another for which he was creator, screen writer and producer.
Julian Fellowes was also creator of the TV series Belgravia along with Emmy Award winner Production Designer Donal Woods.
If you are viewing this on a mobile phone then you will get more menu options if you turn your phone on its side.