Buying and selling a Lordship
Strange as it seems this is still possible in 2019. However, I am not sure if it relates to why I started looking into this.
The "This is Money" website says:
" Lordships had been around for centuries but it wasn't until the arrival of William the Conqueror in 1066 that they became big business.
William handed them out to his followers and by the time the Domesday Book was commissioned in 1086 there were at least 13,000 titles. "
The R_____s of Belchamp Walter
The Lordship of the manor was sold to Thomas Ruggles in 1741 (by John R_____ II?), this did not include the Manor house but presumably included some or all of the surrounding land. The "outlying parts of the Estate" were repurchased in 1865 by the Reverend John Mayne St. Clere R_____ who also in 1871 extended Belchamp Hall with a new wing.
The Folly was also built at this time along with renovations to St.Marys church.
The listing on manorialcounselltd.co.uk
There was a listing for the Lordship of Belchamp Walter Rectory or Rectory of Belchamp Walter when I checked in September 2019. It is now longer to be found. I should have taken a screen-shot.


The Lordship of Belchamp Walter
As I said this was listed as for sale in September 2019. However a similar listing was found for Pryors of Lambourne in Essex in November of 2021. Lambourne is within the M25 and is therefore part of Greater London. Being a Lord in this area is likely to be of little significance even if it only cost you £2,500.
Thomas Wright in his History and Topography of Essex said:
" On his death, in 1690, he left, by his wife Anne, daughter of Sir Robert Burgoyne, of Sutton, in Bedfordshire, an only son, named John, who, by will, in 1720, left the entailed and other family estates to his legal heirs; some parts of these were purchased by Samuel Ruggles, Esq. but the Hall remained in possession of, or was purchased by, the family, and, with other estates, belongs to Samuel Millbank R______, Esq.

The estates belonging to Samuel Ruggles, Esq. in Belchamp Walter, were devised to his son John, who left these possessions to Joseph Saville, Esq whose son, of the same name, left them to his children, who are minors. "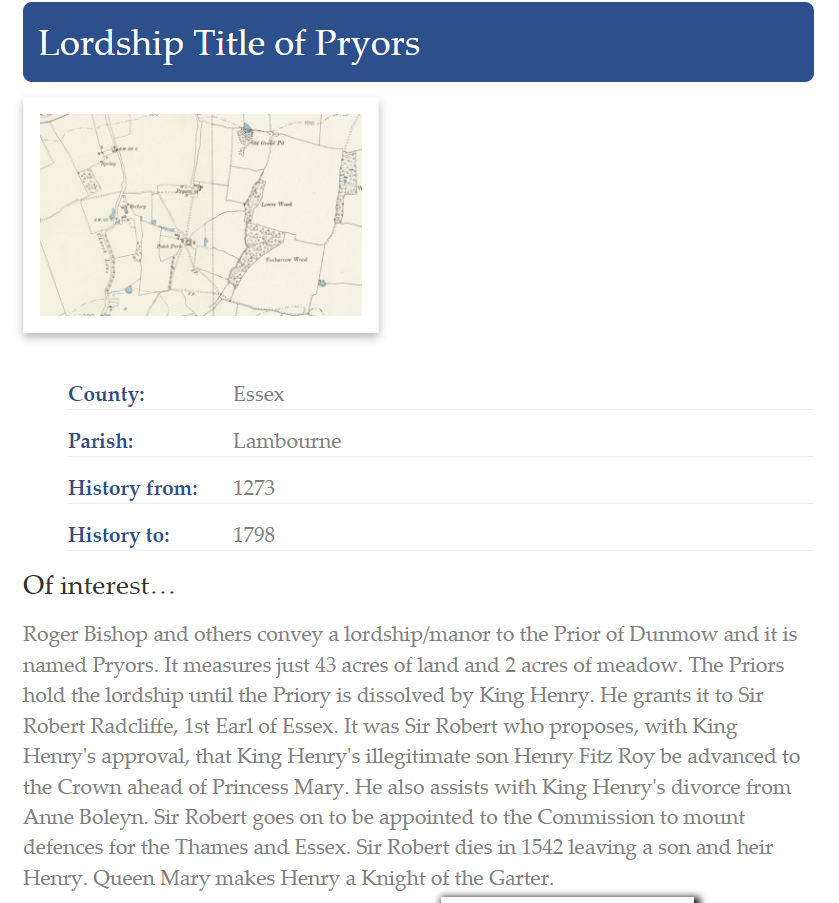 Price: £2,500 to become the 19th Lord and Lady of Pryors